Gallery
One-Hour Teeth Whitening
Our teeth whitening is simple and almost painless with our newest whitening system created by Beaming White. The gels are Kosher and Vegan and Made in the USA. We offer two levels of whitening and which one you decides depends on your teeth and needs.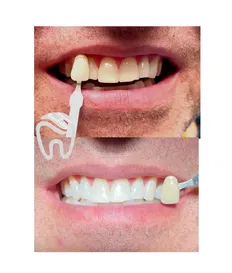 Traditional Veneers

A patient getting married in less than 3 months and wants straighter, brighter teeth ...fast! Patient walked down the aisle with the teeth she has always wanted and a smile that radiates the beautiful person that she is inside!
Lunch Break, no shots veneers!
Same day before and after photos. If you want to enhance smile without getting shots!
Straighter teeth in months!
Invisalign orthodontics to help correct misaligned teeth.
Gummy Smile? No more!
Gum reconstruction and Full Smile Porcelain Veneers. Instant makeover smile in one day after placing temporary veneers. Permanent porcelain veneers comes in two weeks.
Instant Straight and Brighter Teeth!
When Patient has no time for braces or orthodontia, porcelain veneers treatments can create an instant smile with our hand-made custom temporaries. These temporaries are digitally created to give you a vision and feel of what your new smile would look like two weeks later after we receive then cement your much more nicer permanent porcelain veneers.